Information
Massimo Rao was born in San Salvatore Telesino, Italy in 1950. He studied art history in Benevento and architecture at the University of Naples. He had exhibitions in Italy, Switzerland, Belgium, Austria, The Netherlands and The United States. He died at a young age in 1996.
In his works Massimo Rao combines renaissance and classical style in his paintings with a sudden contemporary viewpoint. Certain images reappear in many of his paintings: a woman, transformed into a Greek goddess; a man, dressed as an angel and sometimes hiding behind a moon. In this way, Massimo Rao gives his paintings a clear outline with a mysterious content. Steltman Galleries published 3 stone lithograph editions by Massimo Rao. If you have an interest in one of these works please contact us by e-mail: steltman@steltman.com please note: Limited availability.
...e allegramente
ammazzarono gli Dei...

mixed media on canvas.
1992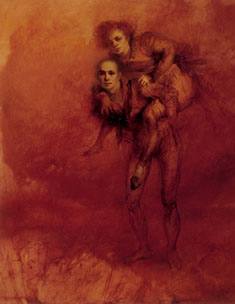 Lithography or 'Drawing on stone'
Stone lithography is a planographic printing process based on the chemical fact that grease and water repel each other. The printform is a flat, smoothly-ground slab of limestone, the lithostone. On this smooth surface, a drawing can be made with lithographic ink. If lithographic chalk is used, the smooth surface must first be given a grain. Another technique is to roll ink over the entire stone and make the drawing by scratching in the ink with a knife or needle. Sometimes the drawing is transposed from transfer paper. The grease from the ink or chalk is absorbed by the stone. The unmarked parts are worked over with gum arabic to make them more impervious to grease and more absorbent for water. The pigments of the ink or chalk are then washed off with turpentine, while the grease remains in the stone. The stone is then wetted; the unmarked parts absorb the water and the marked parts repel the water. When the stone is inked, the greasy printing ink adheres only to the grease on the drawing. The lithograph is printed on the scraper press and is suitable for large editions. Lithography was invented in 1796 by Alois Senefelder. The first Dutch litho dates from 1809. In the first half of the 19th century, the first colour lithographs were printed. These used as many stones as there were colours.
Antenato della terra dei sogni...

Stone lithograph
Year: 1991
Size in cm: 67 x 100
Size in In: 26¼ x 39½
Paper: Zerkall Bütten 300 gr/m2
No. of colours: 17
Edition: 180
Price: inquire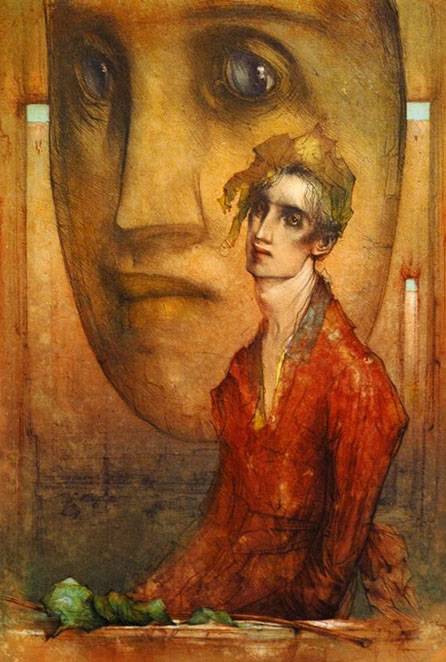 ...nè in cielo, nè in terra...

Year: 1990
Size in cm: 67½ x 94
Size in In: 26½ x 37
Paper Rives Bütten 300 gr/m2
No. of colours: 16
Edition: 180
Signature: Massimo Rao
Price: inquire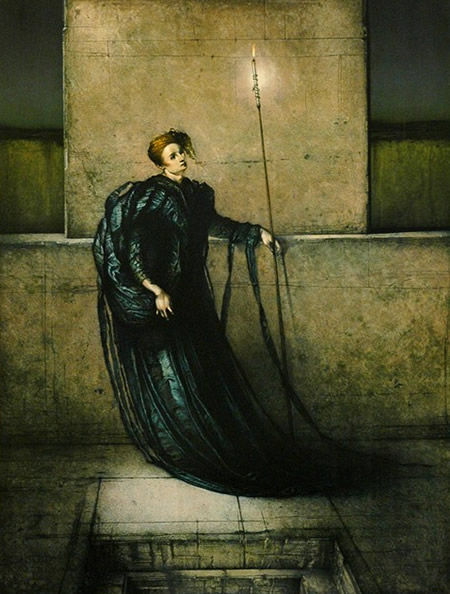 Il Re Delle Lucertole

Stone lithograph
Year: 1991
Size in cm: 62 x 83
Size in In: 24½ x 32¾
Paper Zerkall Bütten 300 gr/m2
No. of colours: 12
Edition: 180
Signature: Massimo Rao
Price: inquire
Il Re Delle Lucertole

Stone lithograph
Year: 1991
Size in cm: 62 x 83
Size in In: 24½ x 32¾
Paper Zerkall Bütten 300 gr/m2
No. of colours: 12
Edition: 180
Signature: Massimo Rao
Price: inquire