Information
Piero Fassoni (1941-1987), a painter with many faces, was born in Egypt but from Italian origin. He grew up among the international community of Cairo, where he studied architecture at the Leonardo da Vinci School of Fine Arts. After his return to Italy he took up apprenticeships with several masters of the tempera on wood- and fresco techniques. These Techniques would play a dominating role in his work for the rest of his life. Fassoni lived successively in France, Geneve and England. He studied at the Goldsmith School of Art in London and worked with experimental film. In 1976 he settled permanently in Amsterdam where he established a reputation as a multifaceted magical modernist painter inspired by the Italian Renaissance.
Piero Fassoni

sold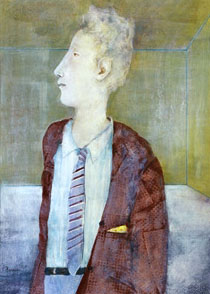 Piero Fassoni was a symbolist. His main source of inspiration were people, particularly human faces, facial expressions and the mystique woman. Constituted like the different layers of tempera, both influencing and obscuring each other, Fassoni created a multi layered metaphorical language which originated a synthetic unity. His semiotics are literary, referring to myths, fairytales and history, influenced by Fassoni's diverse cultural background.
Piero Fassoni strived for a harmony of matter, form, colour and structure in his paintings. His imagery is developed by eliminating colours and shapes. From the coherence between the layers of tempera and different colours, meaning and form came into being. The images and meanings stem from this synthesis of colour and paint rather than from a predestined figure in his imagination.
Fassoni's portraits emit a certain alienation, his figures seem detached and entangled in a different level of consciousness similar to the spheres of surrealistic paintings of the twenties like the ones by Dali or Max Ernst. Fassoni's style combines Classical disciplines, Mannerist influences and elements of the Spanish Baroque. In spite of the strong affinity his imagery language, meaning and techniques demonstrate with the past, Fassoni's style is unique in the history of art. Piero Fassoni created an ultimate metaphorical language of images to represent his dreams, his detached surrealistic world and the mystical woman. From 1977 on he worked with Steltman Galleries, now in Amsterdam and Santa Fe. The majority of his exhibitions were held in Europe, particularly Holland but also in Italy, former Yugoslavia and Switzerland. A short time before his untimely death Piero Fassoni made an unprecedented impression in the United States of America with several exhibitions and publications.
Piero Fassoni

sold
Exhibitions

1972 Galleria La Rocchetta Parma, Italy
1973 Galleria Il Gabbiano La Spezia, Italy
1976 Gallery Hüsstege Amsterdam,The Netherlands
1977 Wladimir Artcenter Bussum, The Netherlands
1978 Gallery Hüsstege Amsterdam,The Netherlands
1979 Gallery Galjoen Den Bosch, The Netherlands
1980 Gallery Hüsstege Amsterdam,The Netherlands
1981 Steltman Galleries Amsterdam,The Netherlands
1982 Museum of Maassluis Maassluis, The Netherlands
1984 The Art Association of Newport Rode Island, USA
1984 Salomons Hatch Providence, USA
1984 Steltman Galleries Amsterdam,The Netherlands
1985 Gallery Hüsstege Den Bosch, The Netherlands
1987 Steltman Galleries Amsterdam,The Netherlands


Piero Fassoni

sold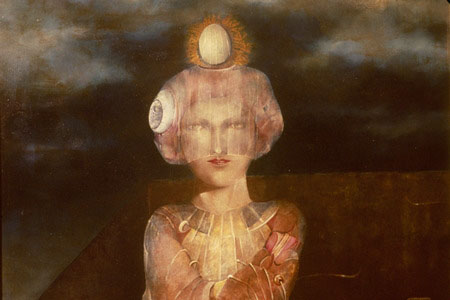 Group Exhibitions

1977 Arte Fiera Bologna, Italy
1980 Metaphysical Presences Ljubljana, Yugoslavia
1981 Art Fair Utrecht, The Netherlands
1982 Art Fair Basel, Switzerland
1983 Art Fair Basel, Switzerland
1983 Italian Cultural Centre Amsterdam,The Netherlands
1984 Steltman Galleries Amsterdam,The Netherlands
1988 Singer Museum Laren, The Netherlands


Publications

1979 Elefante Rosso Printing Gallery Piacenza, Italy co published an edition of litho's on Gustav Flaubert
1982 N.R.C. Handelsblad, The Netherlands A series of 5 drawings about the social life of Cairo


Bibliography

1980 Catalogues Grupa Junij 80 Ljubljana, Yugoslavia
1981 Contemporary Art of The Netherlands Association of Modern Art Dealers, The Netherlands
1982 OMNI Magazine, USA
1982 Avenue Magazine, The Netherlands
1983 Kunstmanifestatie, The Netherlands
1985 OMNI Magazine, USA
1985 Kunstbeeld Artmagazine, The Netherlands


Theatre

1982 Costume Design for Ballet 'Gedankensprünge' by Svea Staltman

Piero Fassoni

inquire